Discover the Best Brow Technique: Micropigmentation vs. Microblading
Have you been wondering which brow treatment is right for you? Let's compare two popular options: microblading and micropigmentation.

Microblading is a technique that involves using a manual tool with tiny needles to create hair-like strokes on the skin. While it can look beautiful initially, it can be traumatic for the skin and may not yield satisfactory results after healing, especially for those with oily skin. In fact, many artists have moved away from microblading and now prefer the powder brows technique.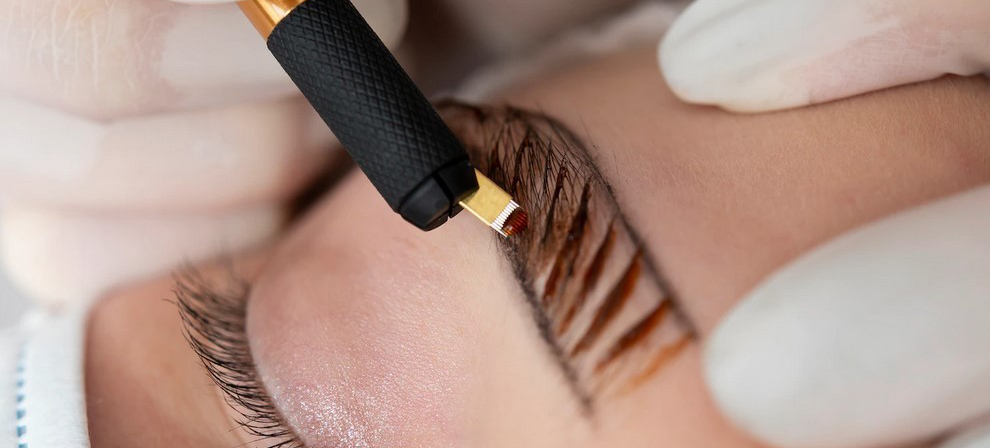 On the other hand, powder eyebrows micropigmentation offers a soft and natural-looking effect. This semi-permanent makeup technique uses a machine designed for cosmetic tattooing and the 'dotting' technique to insert pigments into the skin's surface layers. The result? Beautiful, misty brows that resemble the look of natural makeup.
Now, let's address the question: Why is microblading bad?
Microblading involves scratching the skin with a blade dipped in pigment to mimic hair strokes. While it may have been widely used in the past, many artists have now realized its drawbacks. This manual tattooing method, done with needles dipped in pigment, can cause trauma to the skin, even if done correctly. It's only suitable for specific types of skin. The ideal skin for microblading is not too oily, dry, thick, or thin, and it should be non-sensitive and youthful. Unfortunately, most people do not have this type of skin, except for those under the age of 30 from Asian regions, as microblading originated in China/Japan.

Moreover, even on the perfect skin for microblading, the treatment should not be repeated multiple times. Consistently scratching the same spot on the skin can lead to toughness, scarring, and weakness, making it necessary to cover or remove the microblading. Furthermore, even if the colors fade, the compromised skin remains, with the possibility of permanent scars.

It is crucial to understand these drawbacks to educate others and prevent further spread of this trend.
Looking for ways to help your skin recover from microblading?
Covering old microblading with a powder brow is not as simple as it sounds. The powder brow technique requires a gentle approach with a single needle, which may struggle to penetrate scarred and tough skin. Special remover treatments may be necessary to address bad microblading with dark color or fading along with scars.

If you're tired of dealing with bad microblading, don't worry. With advanced laser tattoo removal technology, you can safely erase those faded and scarred brows. And if you're concerned about the effectiveness of the powder brow technique on previously microbladed skin, rest assured that our experts can find a solution that works for you.

At our studio, we provide two fantastic options for enhancing your eyebrows. Choose between our Laser Tattoo Remove or our Remove with a special liquid suggested by our artists, depending on your specific needs.
The Alternative: Micropigmentation
Fortunately, there's an alternative to microblading that doesn't involve cutting, slicing, or scarring and provides beautiful eyebrows that last longer and maintain the integrity of the skin. It's called Micropigmentation (aka Permanent Makeup and Cosmetic tattooing) performed with a digital machine using nano-needle technology. This gentle procedure implants micro-dots of pigment into the delicate eyebrow skin, resulting in natural-looking, customized eyebrows that can last one to three years. The risk of infection and scarring is minimal, and the results are superior.

If you want to achieve beautiful, natural-looking eyebrows like beauty professionals and movie stars, embrace the advanced machine-performed micropigmentation technique instead of the invasive microblading. The results are long-lasting and stunning, and you'll feel proud of your gorgeous eyebrows.
Choose the brow treatment that not only looks amazing, but also keeps your skin healthy and beautiful. Say goodbye to the struggles of microblading and hello to the wonders of micropigmentation. Let us help you achieve the brows of your dreams!
Experience and expertise await you at Madeira Beauty! Get treated by international artist and trainer, Anastasiia Goldbek. With an impressive 9 years of practice, trust me to provide top-notch treatments.
Rest assured knowing that I only use the most modern techniques and the best materials in my work. My number one priority is achieving perfect results for you while adhering to the highest standards of safety and hygiene.
If you're curious about micropigmentation, be sure to check out my article on the
benefits of permanent makeup treatment
.
Find answers to all your questions in our
FAQ about permanent makeup
.
Whether you want to learn more about micropigmentation or book an appointment, our artist is here to assist you. Contact us at madeirabeautygoldbek@gmail.com or fill out our online form on our website.